KingGen is a random world generator for the survival horror crafting game 7 Days to Die. It is an alternative to the game's built-in random world generation (RWG) and Nitrogen World Map Generator. Using KingGen, players can create customizable random worlds for their 7D2D server. The tool was released March 31, 2021 by 7D2D community member KingSlayerGM.
Download and install KingGen on your local computer (client-side).
KingGen offers numerous benefits over vanilla world generation:
Beautiful generated worlds, with natural landscapes and large cities
Fast world generation, including on older machines
Random biome placement for limited repetition
Smart biome distribution (e.g. deserts and snow never touch)
Noise-based, rather than stamp-based. This means no two lakes, mountains, or other features look identical
Supports advanced customization
KingGen has fast performance. Below is a summary of execution time and RAM usage for various map sizes:
| | | |
| --- | --- | --- |
| Size of world | Execution time | RAM usage |
| 4K | 30 seconds | 500 MB |
| 8K | 2 minutes | 1.5 GB |
| 12K | 5 minutes | 3 GB |
| 16K | 10 minutes | 6 GB |
Users have the option to configure the following map parameters:
World name: The name of the folder and the name you will see in 7 Days to Die.
World size: The size options are 4K, 8K, and 16K. Each map is a square with the dimensions 4096x4096, 8192x8192, and 16384x16384, respectively. The map areas are 16Km2, 64Km2, 256Km2.
World seed: The seed determines how the map is randomly generated.
Points of Interest (POI) placement
City, town, and village generation
Landscape generation (e.g. biomes, mountains, and terrain)
World border
Heightmap imports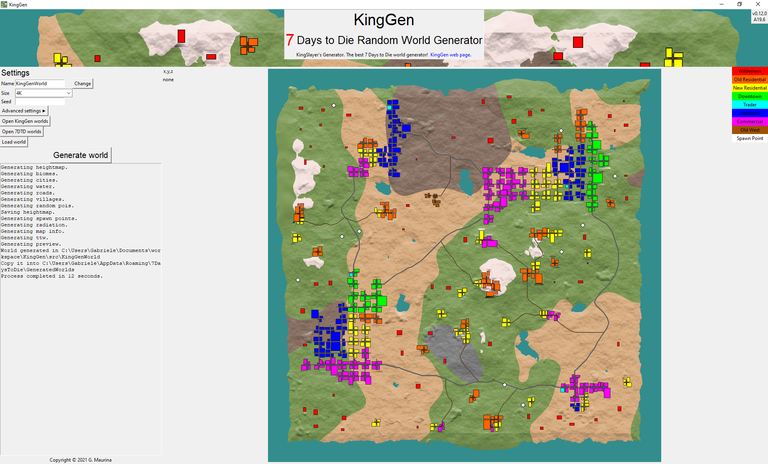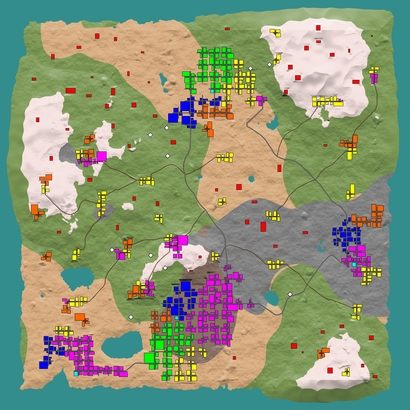 Wilderness (Red)
Old Residential (Orange)
New Residential (Yellow)
Downtown (Downtown)
Trader (Cyan)
Industrial (Blue)
Commercial (Pink)
Old West (Maroon)
Spawn Point (White)
Run the program, then follow the steps below:
1. Set your map name (E.g. KingGenMap).
2. Set your map seed.
3. Set your map size. The default values are 4k, 8k, and 16k.
4. Configure the different heightmaps and other advanced settings.
5. Press the Generate World button.
To upload your newly generated map to your server, you'll need access to your server's file system.
1. Create a "GeneratedWorlds" folder on this path: /.local/share/7DaysToDie/GeneratedWorlds
2. Upload your generated map folder (E.g. MyKingGenMap) to the server's GeneratedWorlds folder. It will look like this: /.local/share/7DaysToDie/GeneratedWorlds/MyKingGenMap
3. Set your GameWorld value to the name of your uploaded folder (E.g. GameWorld=MyKingGenMap). This is located in your serverconfig.xml file. If you have an Indifferent Broccoli 7 Days to Die server, you can set this in the Game Server Settings of your web control panel.
4. Restart your server.
POIs names are case insensitive to detect trader, oldwest and wasteland POIs
Added default hubs to POIs list. Users can now change the default generation of cities, towns and villages
Improved description inside POIs list
Improved error messages related to POIs list
POI prioritization: POIs that have never been placed are more likely to be placed next, POIs that have already been placed a lot, are less likely to be placed again
Changed POI's required and unique into min and max, which give more advanced control over the placement
Added min and max to hubs as well
Improved legend in preview
Added stats file to the world and to the preview. Stats contain how many times each hub and each POI have been placed
Added search bar to preview. You can now search individual POIs by name and see where they are located
Improved POIs mode. POIs are now in the center of the map and the spawn point is always at 0,0.
Fixed bug with combobox highlight
Fixed repetion of pois in the same hub
Added option to check before writing over existing worlds
Added snow to maps that have no mountains
Improved visibility of community heightmaps
Improved terrain roughness option (now terrain can be truly flat or more rouugh than before)
Added "POIs mode" for debugging prefabs (all pois are placed in a flat world)
Added option to view and save the default vanilla POIs list
Added old west settlements
Added tag "required" to the POIs list (a required POI is guaranteed to be placed in the world)
Added tag "unique" to the POIs list (a uniquePOI cannot be placed more than once in the whole world)
Added feedback when there is a problem in the POIs list
Added custom POIs zones support (zones are districts of a hub)
Added custom hubs support (hubs are clusters of buildings like cities, towns or villages)
Find complete update history here.