Method 1: Via Steam
---
1. Click on Join Server
2. In the Steam window, click Join Server again
OR
1. Open Steam click View → Servers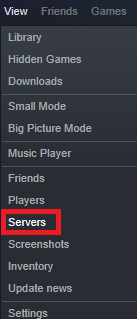 2. In the bottom right, click Add A Server

3. Type in the IP and port of your server.

You'll be able to join the server from this list.
Method 2: Via Epic Games Launcher
---
1. Open ARK and launch into any singleplayer world
2. Press tab
3. Type: open YourServersIP:YourPort replacing YourServersIP and YourPort with your server's information.
4. If your server has a password, type the password like so: open YourServersIP:YourPort Password
Note: The port is different than the normal connection port. Check the How To Connect tab to find the information for your server when connecting through Epic Games.